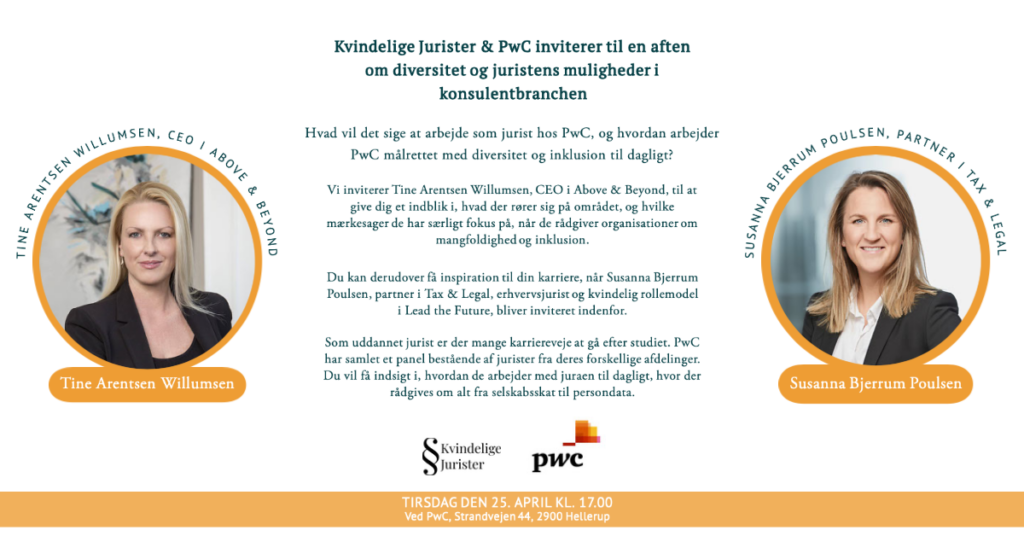 Tirsdag d. 25. april 2023 kl. 17.00-20.30
Kvindelige Jurister & PwC inviterer indenfor til en aften om diversitet og juristens muligheder i konsulentbranchen
PwC & diversitet
Få indsigt i hvordan PwC arbejder målrettet med diversitet og inklusion til dagligt, og hvordan The Diversity Council og andre initiativer er med til at sikre et inkluderende arbejdsmiljø i PwC. Vi inviterer Tine Arentsen Willumsen, CEO i Above & Beyond, til at give dig et indblik i, hvad der rører sig på området og hvilke mærkesager de har særligt fokus på.
Sit-down med Susanna Bjerrum Poulsen, partner i Tax & Legal
Få inspiration til din karriere, når Susanna Bjerrum Poulsen, partner i Tax & Legal, erhvervsjurist og kvindelig rollemodel i Lead the Future bliver inviteret indenfor. Du vil i denne session få kendskab til, hvordan diversitet er et afgørende og et centralt element til at skabe succesfulde teams. Derudover vil du høre om, hvad PwC gør i praksis for at sikre dette.
Paneldebat: Jurist i konsulentbranchen
Som uddannet jurist er der mange karriereveje at gå efter studiet. I PwC får du en bred vifte af muligheder. Du vil få mulighed for at arbejde i en række forskellige afdelinger i organisationen, alt afhængig af hvor din personlige interesse og kompetencer inden for juraen ligger.
Vi har samlet et panel bestående af jurister fra forskellige afdelinger i PwC, der ofte samarbejder på tværs, for at skabe værdi for vores kunder. Du vil som deltager få mulighed for at stille afklarende spørgsmål til panelet, og få indsigt i hvordan de arbejder med juraen til dagligt, hvor der rådgives om alt fra selskabsskat til persondata.
Afslutningsvis vil der blive serveret let aftensmad, hvor der vil være rig mulighed for at fortsætte samtalen med dagens oplægsholdere, panelet og de andre deltagere.
Agenda
17.00 – 17.30: Ankomst
17.30 – 17.45: Velkomst (Kvindelige Jurister & PwC)
17.45 – 18.15: PwC og Above & Beyond (Christian Østergaard & Tine Arentsen Willumsen)
18.15 – 18.30: Pause
18.30 – 18.50: Interview med Partner i Tax & Legal (Susanna Bjerrum Poulsen)
18.50 – 19.30: Paneldebat med jurister (Sofie, Rebekka, Aleksandar, Luisa, Manon og Jon)
19:30 – 20.30: Network og let aftensmad
​Vi glæder os til at se dig!​
Tilmelding
Tilmelding til arrangementet kan ske via følgende henvisning (link).