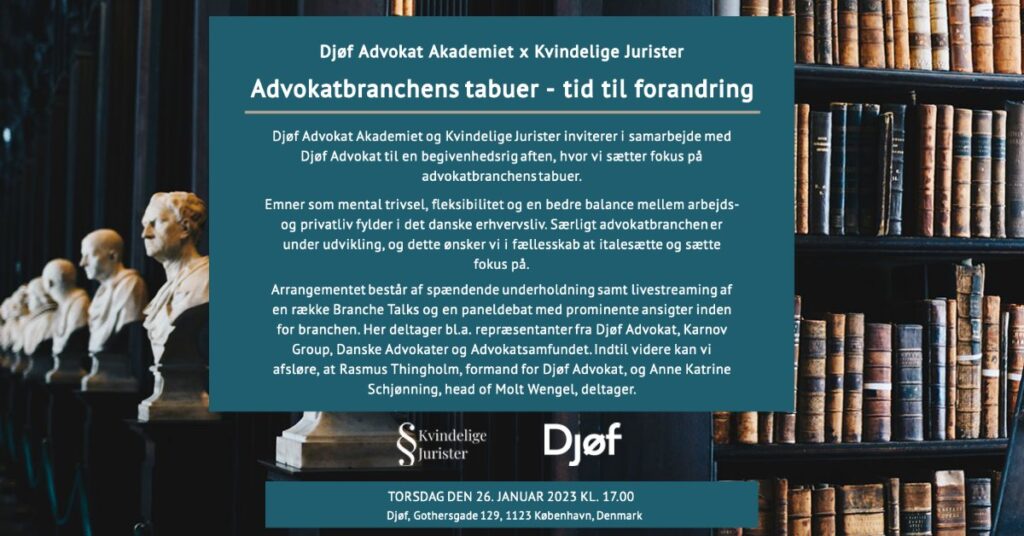 Djøf Advokat Akademiet og Kvindelige Jurister inviterer i samarbejde med Djøf Advokat til en begivenhedsrig aften, hvor vi sætter fokus på advokatbranchens tabuer.
Emner som mental trivsel, fleksibilitet og en bedre balance mellem arbejds- og privatliv fylder i det danske erhvervsliv. Særligt advokatbranchen er under udvikling, og dette ønsker vi i fællesskab at italesætte og sætte fokus på.
Arrangementet består af spændende underholdning (hvilket I godt kan glæde jer til), en række interessante branche talks og en paneldebat med prominente ansigter inden for branchen. Debatten vil blive livestreamet direkte fra aftenens hovedarrangement afholdt af Djøf Advokat. Her deltager bl.a. repræsentanter fra Djøf Advokat, Karnov Group, Danske Advokater og Advokatsamfundet. Indtil videre kan vi afsløre, at Rasmus Thingholm, formand for Djøf Advokat, og Anne Katrine Schjønning, head of Molt Wengel, deltager.
Hvorfor er det vigtigt, at vi bryder tabu i branchen?
Den årlige rapport Fremtidens Jurist af Karnov Group og Djøf Advokat undersøger forskellige emner, som er aktuelle og relevante at belyse i branchen. I Kvindelige Jurister og Djøf Advokat Akademiet ønsker vi at sikre større åbenhed omkring de tabubelagte emner, da dette er et vigtigt skridt i retningen af at sikre et sundere arbejdsmiljø i branchen.
Den danske advokatbranche er kendetegnet ved en række positive elementer, herunder dens høje faglighed, øgede konkurrence og effektive arbejdsniveau, men hvis den samtidig bidrager til stor mistrivsel blandt dens medarbejdere, kan dette på længere sigt gøre branchen uattraktiv. Virksomhedernes muligheder for at rekruttere fremtidens juridiske talenter vil blive begrænset.
Fremtidens Jurist 2021 viser bl.a., at den mentale trivsel er under stort pres blandt jurister i hele Skandinavien. 62% har oplevet arbejdsrelateret stress og angst og kun 9% føler, at branchen gør nok for at forbedre juristernes mentale trivsel. Mental trivsel er derfor en vigtig prioritering for fremtidens juridiske branche, hvis den skal forblive attraktiv.
Hvis branchen fortsat skal kunne tiltrække samt fastholde talenter og arbejdskraft, så skal der ske en ændring af forholdene på arbejdspladserne. Ifølge forskning fra CBS viser det sig, at dårlig trivsel påvirker en virksomheds sammenhængskraft. Det er derfor vigtigt, at vi i fællesskab får italesat og løst de problematikker, som branchen står overfor.
PROGRAM:
Kl. 17.00: Tjek ind og let anretning
Kl. 17.25: Velkommen
Kl. 17.30: Underholdning (offentliggøres snarest)
Kl. 18.30: Livestreaming af BrancheTalks og paneldebat
Kl. 18.35: Keynote om produktivitet om trivsel med Jens Nässtrøm, erhvervspsykolog og uafhængig forsker med speciale i jurister
Kl. 18.55: BrancheTalks
Anne Katrine Schjønning – Head of Molt Wengel
Kristian Cedervall Lauta – Professor og prorektor for uddannelse på Københavns Universitet
Kl. 19.15: Keynote – Mikkel Severin, CEO, Rådgiver og ekspert i Mind Control
Kl. 19.45: Landsdækkende paneldebat om advokaternes tabu
Rasmus Thingholm, formand for Djøf Advokat
Anne Katrine Schjønning, head of Molt Wengel
Kl. 20.30: Networking m.fl.
Kl. 21.30: Tak for i aften
HVEM KAN DELTAGE?
Deltagelse kræver at du enten er studerende på 3. år af bacheloren eller på kandidaten på jura, og at du er medlem af Djøf. 
Vi glæder os til at se jer!
TID OG STED:
Torsdag d. 26. januar 2023 kl. 17.00
TILMELDING:
https://www.djoef.dk/…/advokatbranchens-tabu-og…
Arrangementet er åbent for jurastuderende på 3. år af bacheloren eller på kandidaten, og du skal være medlem af Djøf eller medlem af Kvindelige Jurister.