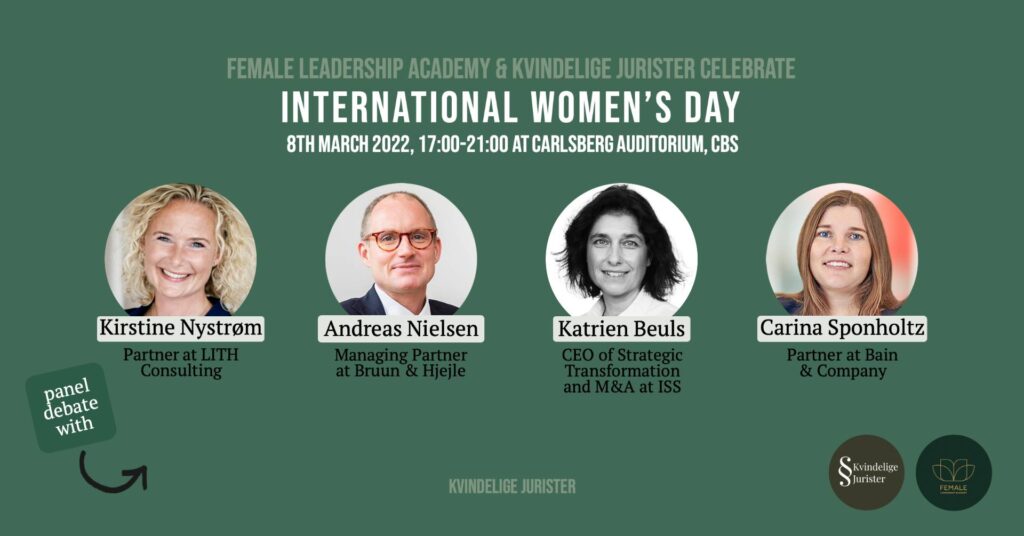 Celebrate International Women's Day with Female Leadership Academy and Kvindelige Jurister on the 8th of March 2022! We are thrilled to invite all interested for a celebratory event and a panel debate about diversity in the workplace and gender-equality with interesting speakers – followed by light food and drinks. This is the perfect opportunity to network with professionals and students from other universities.
Speakers:
Kirtstine Nystrøm, Partner at LITH Consulting (moderating the debate)
Andreas Nielsen, Managing Partner at Bruun & Hjejle
Carina Sponholtz, Partner at Bain & Company
Katrien Beuls, CEO of Strategic Transformation and M&A at ISS
Program:
17.00 – 17.10 – Welcome
17.10 – 17.20 – Introduction by Kvindelige Jurister
17.20 – 17.30 – Introduction by FLA
17.30 – 18.30 – Panel debate with Andreas Nielsen, Carina Sponzholtz and Katrien Beuls, moderated by Kirstine Nystrøm.
18.30 – 19.00 – Q&A
19.00 – 21.00 – Networking and Dinner
Please note that there is no sign-up link. All you have to do in order to secure a spot at the event is to click "attend/deltager". We are looking forward to seeing you!
Link to the event: https://fb.me/e/2SMjB2cgN
NB. At the event, there will be photos and videos taken for marketing purposes.