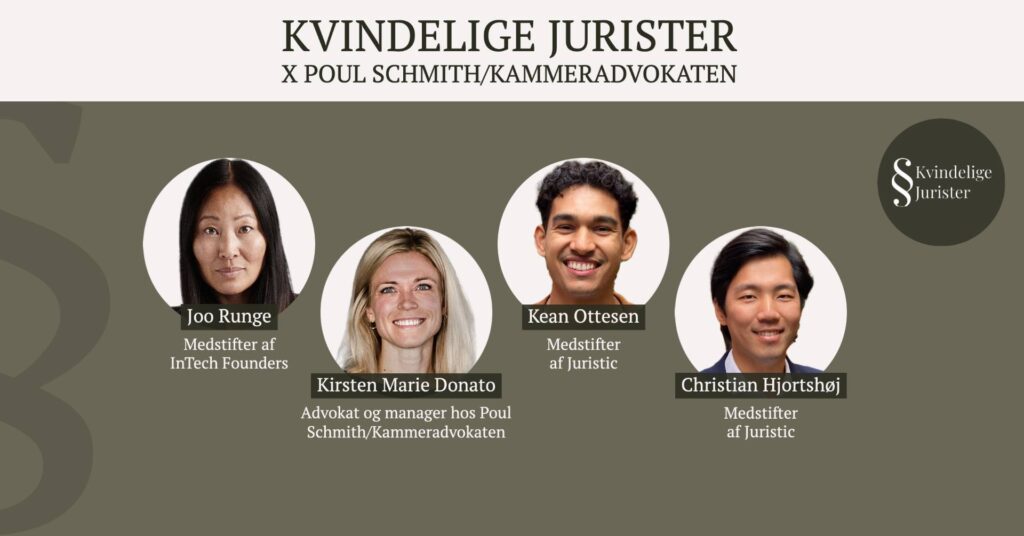 FREMTIDENS JURIST: IVÆRKSÆTTERI OG LEGALTECH
I samarbejde med Poul Schmith/Kammeradvokaten inviterer Kvindelige Jurister til arrangementet "Fremtidens jurist: Iværksætteri og legaltech". Arrangementet finder sted torsdag den 25. november 2021 klokken 17:00-20:00 hos Poul Schmith/Kammeradvokaten, Kalvebod Brygge 32, 1560 København V.
Vi får besøg af Joo Runge, tidligere M&A advokat og medstifter af Intech Founders (https://www.intechfounders.com/). Intech Founders er et acceleratorprogram for kvindelige founders indenfor tech, som har til formål at søge fundraising til iværksættervirksomheder med kvindelige medstiftere. Programmet sikrer et stærkt netværk og vidensdeling samt oplyser investorer om en forretningsmulighed med stort potentiale for gode afkast.
En rapport fra september 2019 med titlen "NORDIC STARTUP FUNDING – Through the Lens of Gender Diversity" viser bl.a., at danske virksomheder med udelukkende kvindelige stiftere kun rejste 1% af den samlede kapital i Danmark i 2018. Intech Founders er derfor et nyt koncept, som skal sikre flere midler til iværksættervirksomheder, der har kvindelige medstiftere.
Derudover kommer Christian Hjortshøj, jurist, og Kean Ottesen, som er stiftere af Juristic (https://www.juristic.io/about). Juristic er en legaltech start-up, som designer og udvikler browserbaseret rådgivningsteknologi til juridiske og finansielle rådgivere – det som stifterne selv kalder "advisory tech".
De to oplæg tager udgangspunkt i emner såsom stifternes visioner og erfaringer med opstarten af deres iværksættervirksomhed, kvinder i tech, samt hvordan fremtidens jurist kommer til at se ud.
Desuden vil Kirsten Marie Donato, advokat og manager hos Poul Schmith/Kammeradvokaten, holde et kort oplæg om databeskyttelsesretlige problemstillinger fortælle om nogle af hendes sager, hvor legaltech og digitalisering har været omdrejningspunktet.
Arrangementet afsluttes med en lettere anretning og networking.
Tilmelding sker via https://billetfix.dk/da/e/kvindelige-jurister-og-legal-tech, og det bemærkes, at arrangementet ikke er forbeholdt jurastuderende – alle interesserede er således velkomne. Ved afbud bedes du sende en mail til event@kvindeligejurister.dk.
Kvindelige Jurister og Poul Schmith/Kammeradvokaten ser gerne, at der til arrangementet kan fremvises gyldigt coronapas.
Vi glæder os til at se dig til "Fremtidens jurist: Iværksætteri og legaltech".
Med venlig hilsen
Kvindelige Jurister og Poul Schmith/Kammeradvokaten